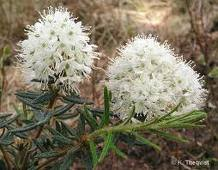 Ledum Palustre commonly known as Marsh Labrador tea, northern Labrador tea or wild rosemary, is a native of northern Europe. It is also found in British America along the Canadian lakes. Ledum has been used in northern Europe as a popular remedy against whooping cough, bilious attacks, and skin disease like leprosy and pemphigus. The whole plant is used in medicine.
In homeopathic medicine it is used for back problems, bruises, injury and trauma, joint, muscle and nerve problems. Ledum helps heal insect bites and rodent bites, black eyes, punctured wounds such as those caused by nails, hemorrhages into the anterior chamber of eyes after surgery, contusions of eyes and lids and bruising pain.
Ledum is a homeopathic remedy for both acute and chronic gout and rheumatism. Rheumatism and gout causes throbbing pain in various joints like wrists, fingers and toes. In acute condition the joints are swollen and hot. Inflamed parts are red or pale and worse at night. In chronic condition, the joints are swollen and very painful. These painful hard nodules first occur in joints of feet (toes and ankle) and then in arm (elbow and hand joints). Rheumatism and gout begin in lower limbs and ascend.
Ledum Palustre homeopathic action also helps in skin symptoms due to injury or loss of vital heat. It also helps in acne on forehead, facial eczema, itching on feet and ankles. It is helpful in resolving intense itching of feet and ankles that gets worse from scratching and warmth of bed. Ledum Palustre also helps in long remaining discoloration after an injury.