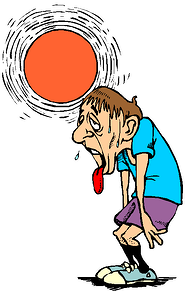 Certain homeopathic remedies help deal with the extreme heat that everyone will experience this summer. It is always recommended to stay inside the house when the weather is too heat. However, sometimes people need to be out in the hot sun. These homeopathic remedies will help deal with the heat. Be sure to drink plenty of water along with these remedies to beat the heat.
Homeopathic Cell Salt Combinations
- These remedies consist of 12 vital cell salts that the body needs to function. In the heat, the body loses these vital cell salts. Taking these cell salts help the body keep the vital nutrients in the body.
- Take aconite 6C if you are feeling dizzy and have a headache form the sun. This remedy helps your body from the sun draining the body of its nutrients.
- Carbo Veg 6C is used to treat stomach issues related to the heat. The hot sun can sometimes throw the digestion system off. Gas and stomach pain may be common symptoms. This person have feel low vitality and need to have cool air on them.
If you do start feeling too sick in the heat, make sure to go inside in some cool air. Drink some cold drinks to cool the body. If sickness continues or if you suspect heat stroke, go to the emergency room.