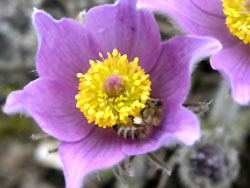 The use of
Pulsatilla
for medicinal purposes dates back to Ancient Greece when it was used to cure weepy eyes. In Roman times, it was used for eye infections, cataracts and tooth decay. Pulsatilla Nigricans was originally only found wild in the very north of Europe including Scandinavia but has since spread to all but the very southern parts of Europe. This medicine produces beautiful deep purple flowers with orange centers The whole fresh plant is gathered and made into a pulp, and liquid is extracted and diluted to make the homeopathic remedy.
It is used to treat a wide variety of disorders with both physical and mental symptoms. It is used for colds and coughs, sinusitis, eye infections with discharge such as styes and conjunctivitis and digestive disorders such as indigestion and heartburn.
There are many other symptoms that Pulsatilla is used for such as hayfever, sore throat, chicken pox, mumps, measles, nausea, vomiting, diarrhea, fevers that alternating between being hot and cold, migraines, headaches, backache, varicose veins, earaches, toothaches and insomnia with restless sleep with many dreams and nightmares.
Women who have a mild, passive nature and are kind, gentle and loving usually use Pulsatilla. The person yields easily to the requests and is a peacemaker who likes to avoid a scene. The remedy is helpful for female disorders in which there are a variety of physical and emotional symptoms. These include premenstrual tension, menstrual problems, menopausal symptoms, cystitis with accompanying symptoms of mood swings, depression and tearfulness. It is a remedy for swollen glands, inflammation and pain in the bones and joints as in rheumatic and arthritic disorders, nosebleeds, acne, frequent urination and incontinence.
Pulsatilla is used for a variety of ailments which lead to better physical and mental health.