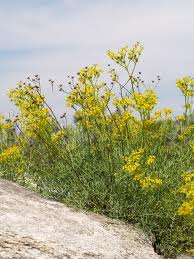 Ruta Graveolens is also known as Common Rue and Herb-of-grace is a species of herb. Rue is a symbol of regret, sorrow and repentance. Catholics used sprigs of it to sprinkle holy water on worshippers. Rue is an attractive bluish green shrub, and a standout in the herb garden. An attractive plant, rue is often grown in a pot on the patio. It is sometimes grown as an ornamental plant in gardens and also as a medicinal herb.
Common Rue is native to southern Europe and northern Africa. It is apparently no longer found in the wild, but occasionally escapes from gardens and naturalizes along roadsides and waste areas in North America and Europe, especially in the Balkans. Rue does have a culinary use, although they are bitter in large quantities. Small amounts of Rue leaves added to cream cheese, salads and egg dishes impart a pleasant musky flavor. Rue leaves and berries are an important part of the cuisine of Ethiopia and is also used as a traditional flavoring in Greece and Mediterranean countries. The plant produces seeds that can be used for porridge. The bitter leaf can be added to eggs, cheese, fish, or mixed with damson plums and wine to produce a meat sauce.
Rue has been used as a medicinal and "antimagic" herb for centuries. It was considered a reliable defense against witches. Dogs and cats hate the smell of Rue. The dried and crushed leaves can be an effective insect repellent. The Rue leaf was the model for the suit of clubs in playing cards.
In homeopathic medicine, Ruta is used to relieve gas pains and colic, improve appetite and digestion, tendon, bone, and joint pain, strained muscles and tendons, weakness, burning, stinging pains, eye injuries, sciatica, sharp back spasms, ganglion cysts, tennis elbow, eyestrain, and bruises due to falls or blows. Rue can also be made into an ointment for external use against gout, arthritis, rheumatism and neural pain. Therefore, Ruta Graveolens is used as symbol in holy water and is a holy medicine.