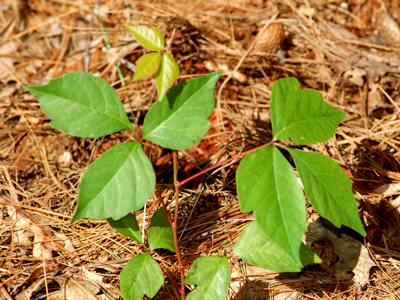 Rhus Toxicodendron is a very popular homeopathic medicine. It is often called Rhus Tox for short. Rhus tox is made from the poison ivy plant itself. The plant is picture above. It is generally hand picked and then diluted. The dilution process removes most of the poison ivy out of medicine. There are trace amounts of poison ivy left in various potencies. The poison ivy plant is easy to identify. Each leaf on poison ivy and poison oak has three small leaflets. The middle leave is longer than the other two leaves. The poison ivy plant is found all throught out most of the eastern United States. In the west coast, a close cousin of poison ivy called poison oak is found there.
Rhus tox is used to treat a wide variety of ailments. Rhus tox is most famous for treating outbreaks of poison ivy. Rhus tox comes in ointment, liquid and pill form to help treat poison ivy. Since poison ivy produces an inflammation, Rhus Tox is commonly used to treat conditions with inflammation such as rheumatoid arthritis.
Rhus tox in the lower potencies with less dilution are used to treat conditions such as poison ivy. Rhus Tox 4X is the common potency for poison ivy pills. Higher dilutions such as Rhus Tox 200C are generally used to treat conditions such as arthritis.
Rhus tox is also used to treat other various conditions such as restlessness, sprains, burning discharges, dehydration, ailments of skin and joints, sciatica, back pain, chicken pox, flu, skin rashes, sore throat, and stiff upper back and neck. People who use this remedy show restlessness, indifference, and sadness. These people often better with warmth and walking, and worse at night during sleep
Rhus Tox can be used for a wide variety of things and aliments. All homeopathic medicines are individualized. Start with a low potency when you begin a treatment.