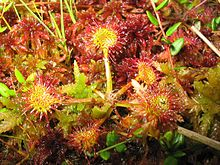 Drosera Rotundifolia is a carniverous plant that is found in bogs and marshes. The plant feeds on insects and it is commonly called SunDew. It is widespread and can be found through Europe, Siberia, Japan, Korea, US and Canada. This plant was used by Asian physicians for skin eruptions and during the Middle Age it was used to treat the plague. When eaten by sheep, this plant causes a severe, spasmodic cough similar to that of whooping cough. This led to the homeopathic proving and its use as a cough remedy.
Drosera Rotundifolia is usually prescribed to treat a deep, violent, spasmodic cough, especially whooping cough. Associated symptoms may include restlessness, anxiety, retching, vomiting, cold sweats, and nosebleeds. The cough is worse after midnight and, in the acute stages, ends in gagging, vomiting, nosebleeds, and cold sweating followed by talkativeness. There may also be a feeling that there is a feather or crumb in the larynx, which triggers coughing. The voice is often toneless, hoarse, and deep.
There is some indication that Drosera Rotundifolia may be helpful in treating behavioral problems, particularly in children. Drosera Rotundifolia is best suited to children who are restless, anxious, peevish, and distrustful. Their emotions seem unbalanced, and they often have difficulty concentrating. They are fearful when alone and may be afraid of ghosts.
Drosera Rotundifolia is a herb that can cure many ailments. However, it is primarily used homeopathically for violent cough similar to the effects of someone eating this type of plant.