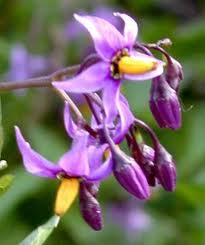 The homeopathic remedy
Dulcamara
is prepared with the freshly obtained green leaves and stems of the bittersweet or nightshade plant - a perennially growing vine. Subsequently, the green leaves and stems of bittersweet are chopped into fine pieces and macerated or marinated in alcohol for a period of time. The resultant solution is filtered and diluted to desired levels giving us the useful homeopathic remedy Dulcamara. As in the case of any other homeopathic medication, Dulcamara does not retain even the slightest trace or any toxicity of the bittersweet vine and is safe for human use.
Dulcamara is highly effective in treating health conditions caused by exposure to chilly and humid weather conditions or abrupt changes in temperature or becoming chilly very soon following profuse sweating. It has been found that individuals who require the homeopathic remedy Dulcamara are generally dominating, possessive as well as very determined in nature. At the same time, such people are very susceptible of humid and cold weather, very sensitive to colds that may result in other diseases, for instance, a wheezy cough, cystitis, conjunctivitis or even diarrhea. Turning to Dulcamara not only helps to cure these ailments, but also alleviate the associated symptoms.
The homeopathic remedy Dulcamara is very much comparable to other medications, such as capsicum, belladonna, stramonium and hyoscyamus. This homeopathic remedy is used to treat a number of health conditions such as jaundice, pneumonia, colds with thick yellow mucus, psoriasis, eczema, cramps, and lack of menstruation, asthma and phlegm.
Dulcamara is effective in treating conditions associated with chills, colds, pneumonia, skin conditions and joint pains in people with dominating personalities.